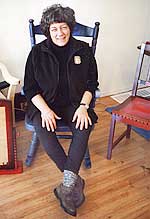 Color, pattern and movement bring joy to my life. My aim is to bring this joy to my art whether it's painting, illustration or furniture. My hope is to create unique, uplifting objects which will touch the hearts of others.
The Path of the Artist
Barbara Hartmann has always been drawn to texture, patterns, shapes and color. Born in New York in 1950 and raised in eastern Pennsylvania, she immigrated to Edmonton, Alberta, Canada. In 1977 she signed up for a course in watercolor and discovered that the luminous quality of this medium highlighted her love of gradated color and tone. She spent the next few years painting exclusively in watercolor and exhibiting her mainly floral work.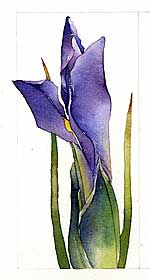 In addition to color, she's always been interested in story, particularly when steeped in fairy tale and fantasy. Images of small objects such as Chinese vases, toy dinosaurs and ceramic figurines crept into her floral paintings. Soon the flowers played bit parts in the narrative and flying fish, dancing pigs and plastic cowboys featured in starring roles.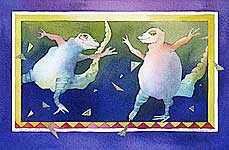 In 1984 she began teaching watercolor classes through the Faculty of Extension at the University of Alberta and enthusiastically shared her love of the medium. Then, in 1986, armed with a few whimsical characters, she showed her portfolio to Tree Frog Press, a children's book publisher in Edmonton. The meeting was fortuitous. The next year, as Tree Frog prepared to publish a contemporary fairy tale anthology with stories by Canadian authors, they thought of Barbara. Even though the inside illustrations were black and white, the color cover image of Royal Family Fables is still one of her favorites.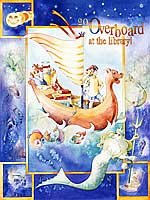 That first book with Tree Frog and her work with educational publishers led to more opportunities to illustrate children's books with other publishers. For many years, in addition to illustrating, Barb also exhibited and sold her work at the Front Gallery in Edmonton. Her watercolors have been featured in posters and brochures for various clients. As well, she's had mural commissions from pediatric wards at two Edmonton hospitals and from schools and daycares.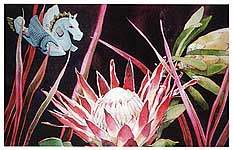 Like many artists, Barbara has been asked to apply her talent to objects that can be donated to charity auctions. Many times, in an effort to creatively set an organization apart, Barb has been given unusual objects to paint such as white canes, chairs, lamps, and ceramic eggs. None of the above takes well to watercolor. As a result Barb learned to use acrylic paint and to develop an appreciation for the decoration of 3D objects.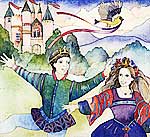 In the past few years, furniture decoration has become a passion for Barbara. She has always enjoyed drawing and painting in either controlled or loose styles, but didn't know how to combine the two.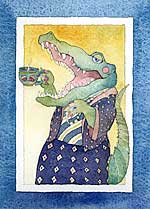 Furniture provides a way to unite both elements. In using furniture as her canvas she has the freedom to create either whimsical illustrations or elegant abstract patterns — or sometimes both!
Although she is attracted to particular themes and images, each piece she creates is unique. Whether humorous or elegant, whimsical or abstract, her colorful art delights the eye and is a celebration of the heart.